Being a freelancer makes it difficult to manage your time and projects, particularly if you have many clients with different needs. Freelancers very soon find that the most challenging part of this life is not necessarily producing content on time, but managing diverse projects.
The independence and flexibility that come with being your own boss may be both a blessing and a curse. You must often balance your professional and personal obligations and make sure you fulfill your timelines. If you happen to be working with a team, it may become even more complicated.
Where to start
Fortunately, there are many online resources and programs that can facilitate workflow optimization, increase output, and improve time management. It sounds like something a whole company would need, but you'll find out they are bound to work for you.
The best project management tools for freelancers will be discussed in this post, including platforms for invoicing and bookkeeping as well as project management and time-tracking software. Yes, even those. You will find yourself needing all of those.
These tools can support your continued organization, productivity, and excellence whether you are an experienced freelancer or just getting started. And who knows? You might become such an expert that other freelancers want to learn from you!
What is a Project Management tool?
A project management tool is a piece of software created to assist individuals or groups in organizing, tracking, and collaborating on projects. (See? Perfect even if you work with teams.)
It offers a centralized platform where you can organize your assignments, due dates, and resources, interact with your team and clients, and keep track of how your projects are doing in real time. Key word: centralized. Best word ever when it comes to multiple projects.
How does a good project management tool help?
To remain on top of their workload, the best project management tools for freelancers can help them meet deadlines, and maintain a high level of quality in their work, project management tools are a need.
Managing all of the tasks that freelancers frequently work on at once might be difficult without a centralized system. With the aid of project management tools, independent contractors may properly allocate resources, prioritize their duties, and engage with clients and other team members.
Where does a good project management tool come in?
By preventing missed deadlines, last-minute scrambling, and communication breakdowns, freelancers may protect their reputation and client relationships. As many freelancers continue in their business through connections and referrals, this is very important to all of them.
What can a good project management tool do?
Project management tools can offer freelancers invaluable information into their performance, productivity, and profitability in addition to these advantages.
Freelancers are able to evaluate their work habits, pinpoint areas for development, and make strategic business decisions by analyzing the time spent on tasks, billing clients, and producing reports.
In conclusion, a project management software is a vital tool for freelancers who wish to maintain their industry-leading organization, productivity, and competitiveness.
Key features of freelance project management software
As a freelancer, there are a few crucial characteristics you should consider when selecting project management tools to make sure the program meets your requirements.
Some of the most crucial aspects to take into account are listed below:
Task management
You should be able to create, assign, and track tasks using the program, as well as establish due dates and priority levels and track progress.
As many freelancers know, the ability to break a task down into its most basic tasks is a skill unto itself. Many times, deadlines are missed because the freelancer was unable to anticipate a needed task, such as research or even as simple as setting up and verifying an account.
The best programs make it easy to break large projects into little tasks, to track if they have been done or not, and indicate what may be needed to accomplish them.
Time tracking
You should be able to track the amount of time you spend on each work using the program, provide time reports, and make accurate invoices for your customers.
This is important for you because very often, freelancers bill by hours spent. If a task takes longer than a client expects, ideally you should be able to break down for the client why this was so. Include even setting up of accounts, research, formatting, and any other little tasks vital to getting the project off the ground.
Collaboration
To make working with clients and team members easier, the program needs to have options for feedback, file sharing, and communication.
The best programs are those that are easily shared with outside parties, but at the same time manage access per page to allow you perfect privacy for internal documents. Clients are much less likely to chase you for deliverables when they can see the status of the task or project in real time.
You are also likely to work with other contract employees or freelancers, and it would be good to interact with them on a program you are familiar with if they don't have any set up. It will also allow you to easily interact in real-time but asynchronously.
Customization
You should be able to modify workflows, templates, and settings in the software to suit your individual requirements and preferences.
What use is a program that can't be adapted to your needs? The best project management software for freelancers needs to be something you have general control over. You should be able to use it no matter what product or service you are offering, customize it for different projects, and adapt it to different team.
Some programs have a little more structure than others; choose what will give you the most value. Customizability should give any project management tool an edge in your eyes.
Project templates
In order to save time and maintain consistency between projects, the best project management software should include pre-built task lists and project templates. You can always create your own, but if you are pressed for time, going with templates might work for you.
One way to explore different software for freelancers is to watch tutorials or freelancers passionate about the various platforms. They usually give honest reviews, are clear about what helps them and what doesn't, and some offer other templates that might be more useful to you.
Templated pages are also easier to send to third parties if you need them to fill something out right away. They can also help you look professional at a pinch, which is needed if you were suddenly asked for a proposal or invoice that you don't normally develop.
Integration
Calendars, email, and accounting software are just a few examples of platforms and tools that should be integrated with the software. Of course, not every freelancer needs these. However, it is so much easier to coordinate work when everything is in one place.
Without integration, you would be forced to update details across platforms wherever you go, and that can lead to missed meetings, forgotten cancellations, unmet deadlines, and so much more. If you absolutely need a certain feature integrated with your project management software, check first before committing to one.
Mobile access
You should be able to manage your tasks while on the go with the help of a mobile project management app or software that is mobile-responsive. Let's be honest: most project management details are easier to manage and edit on a desktop. However, at a pinch, you should be able to do edits and change permissions on your phone.
Before committing to any software, check first if they have an app or a mobile-responsive website, check how it works on your phone, and see if it will work for you. Without mobile access and a good project management app, your mobility as a freelancer will be severely limited.
That being said, you may want to consider looking into mobile devices that are best for independent work. Larger screens, higher capacities, and access to fast data would make you productive no matter where you are, and project management apps will be easier to manage on these.
Reporting
To assist you in making strategic business decisions, the software must to offer comprehensive data on project status, team performance, and financials.
By considering these key features when selecting project management software, you can ensure that the tool you choose is tailored to your specific needs and will help you manage your projects more efficiently and effectively.
The best kind of reporting feature is easy to download in a clear and understandable form. If you can print out project tasks, accounting statements, or summary documents quickly, you will have a tool valuable anywhere. Few consider how important it is to be able to generate a report ASAP, especially if your competition is an organization with a dedicated team for it.
What are the Best Project Management Tools for Freelancers?
Trello
With Trello, a well-liked project management tool, tasks and projects are organized visually using a card-based structure. You can move each card, which represents a task, between the to-do and done stages of the workflow. Multiple projects can be made at a time, allowing you to track deliverables across different clients.
Users can also interact with others in real-time using Trello and add labels, due dates, checklists, and attachments to each card. Multiple users find it easy to interface at the same time with this tool.
Trello offers a free plan and premium options beginning at $9.99 per month.
Key features:
Card-based system
Checklists, labels, and attachments
Collaboration and real-time updates
Calendar view
Mobile app
Link: https://trello.com/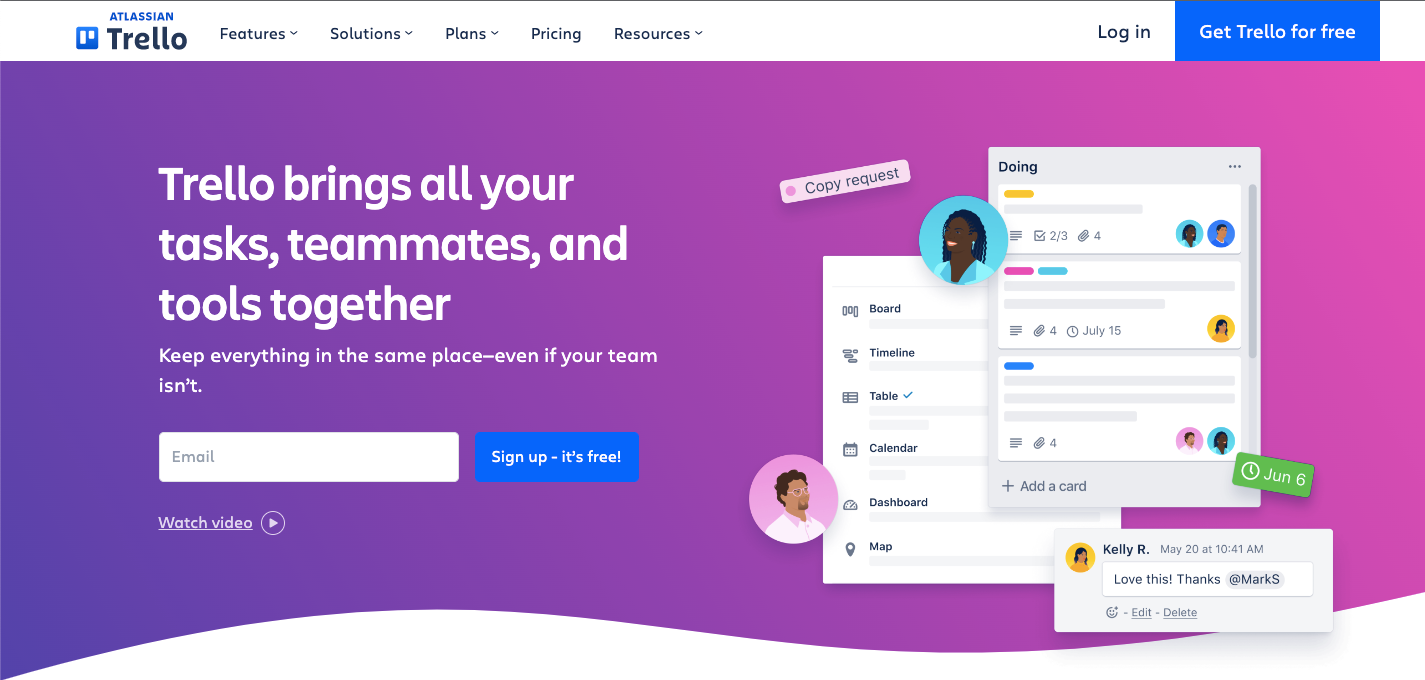 Asana
Asana is a versatile project management tool that allows you to manage tasks, projects, and workflows in a centralized platform. It offers a range of features, including task assignments, due dates, project templates, and custom fields.
Asana also integrates with various other tools, such as Google Drive and Slack, making it a powerful collaboration tool. It has a straightforward look but also enough features to customize to your needs. It is also easy to switch tasks to different users depending on who is currently working on it.
Asana has a free plan, with paid plans starting at $10.99/user/month.
Key features:
Task management
Project templates
Collaboration and communication
Custom fields and forms
Integration with other tools
Link: https://asana.com/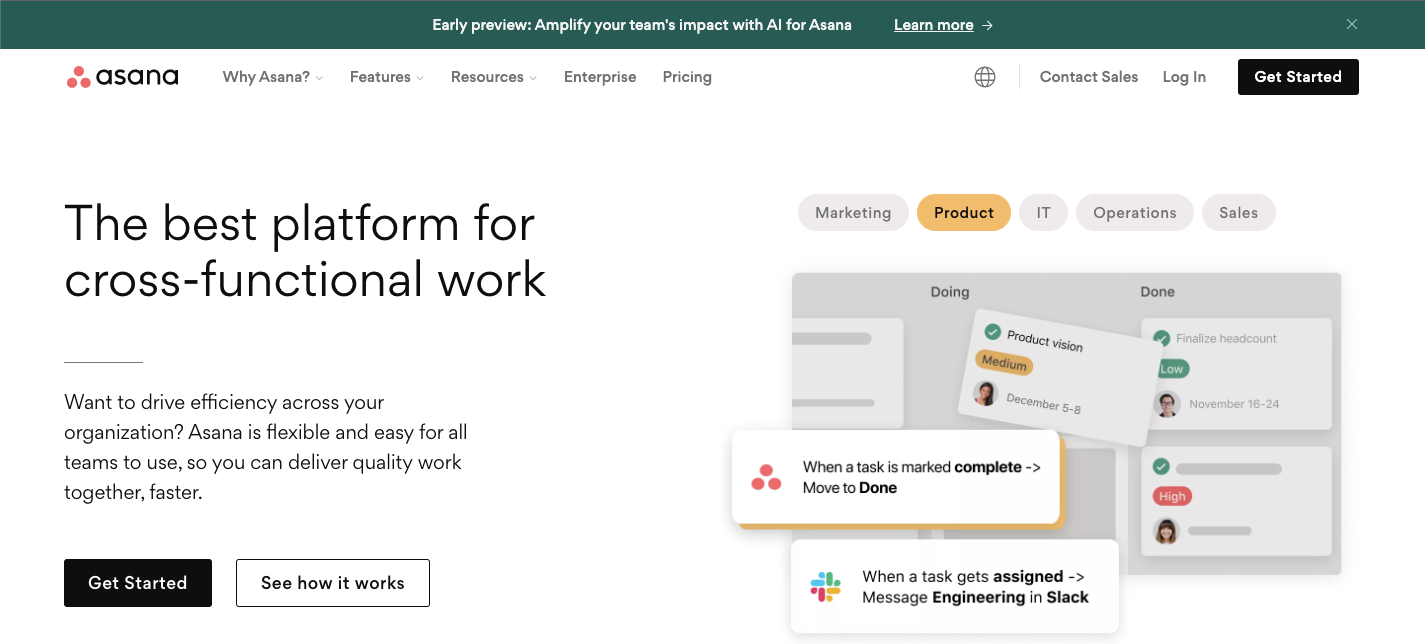 Todoist
With Todoist, you can easily create and arrange tasks thanks to its straightforward yet effective project management features. Assign tasks to various categories and priorities, create projects, and set reminders and due dates for them.
Togetherness, file attachments, and a mobile app are additional capabilities that Todoist provides.
With a free plan starting at $3 per user per month, Todoist also offers paid subscriptions.
It's simple and straightforward to use. You may think it's too simple, but there are also a number of templates to choose from for this.
Key features:
Task management
Collaboration and communication
File attachments
Reminders and due dates
Mobile app
Link: https://todoist.com/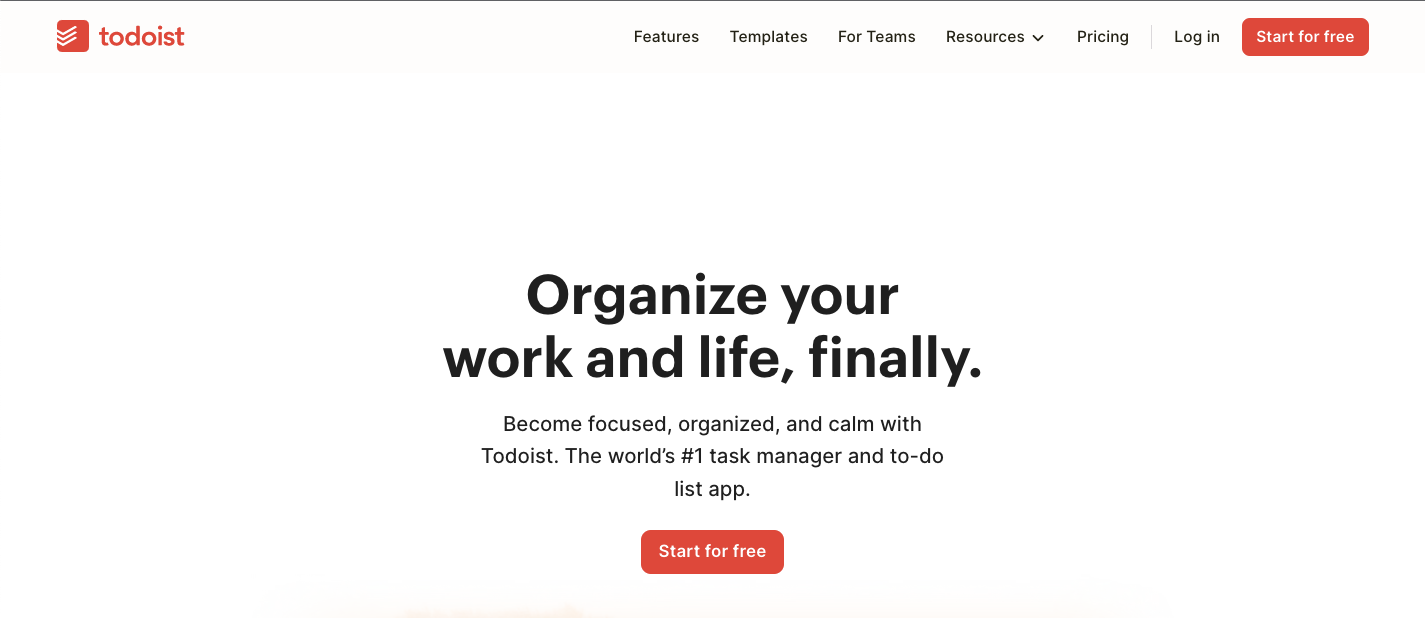 Monday.com
Monday.com is a flexible project management tool that allows you to manage various aspects of your projects, from tasks and timelines to resources and budgets. It offers a customizable dashboard that displays your project data in real-time, making it easy to track progress and make informed decisions.
This software also has integrations with over 40 other tools, such as Trello and Zapier. Most enjoy the tracker bars, which give real-time instant reports on how various projects are doing.
Like many others, Monday.com has a free trial, with paid plans starting at $8/user/month.
Key features:
Customizable dashboard
Timelines and task management
Management of resources
Tracking your budget
Adaptation to other tools
Link: https://monday.com/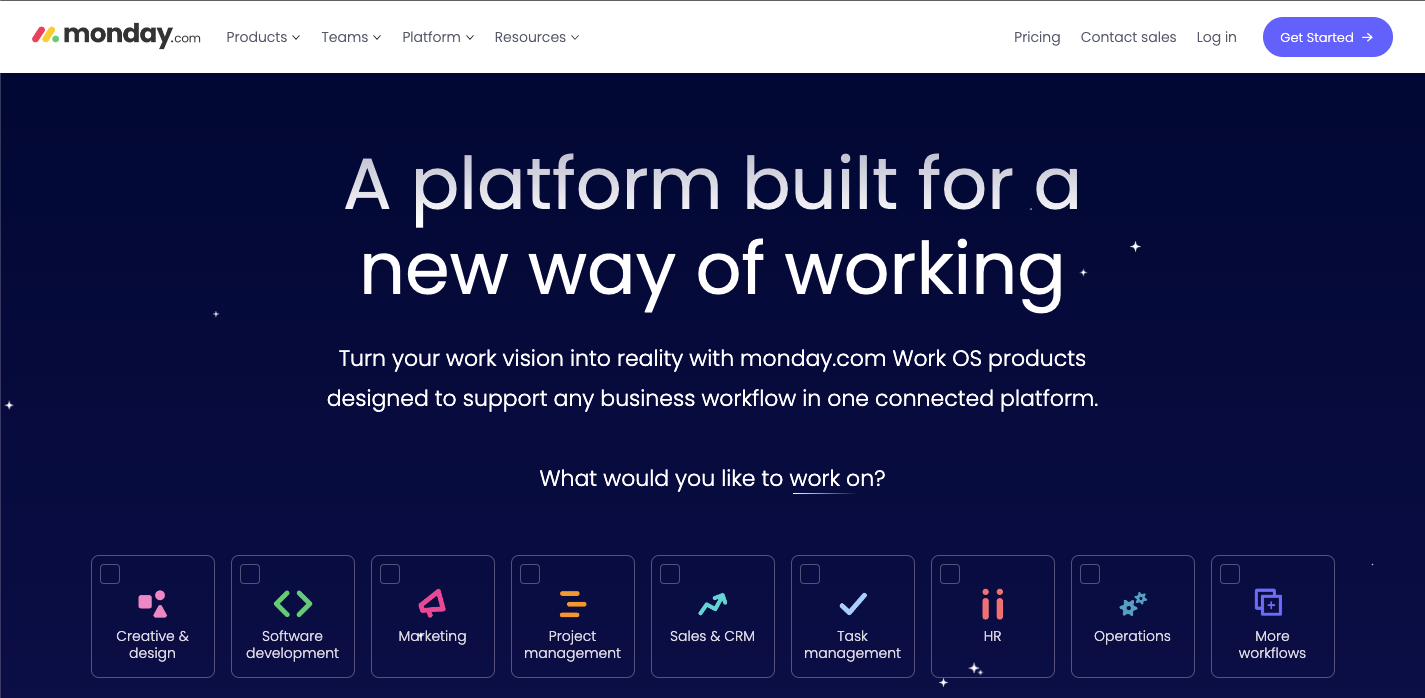 ClickUp
In addition to task management, time tracking, calendars, and even an integrated screen recorder, ClickUp is an all-in-one project management application that provides a variety of capabilities. With the help of it, you can easily interact with others and build various perspectives of your projects, like boards, lists, and calendars.
Besides Slack and Google Drive, ClickUp integrates with over 1000 more programs. Its comments and replies read like a chat conversation, making it easier to interact and receive updates.
Paid subscriptions for ClickUp begin at $5 per user per month and include a free plan.
Key features:
Task management and different views
Time tracking and reporting
Calendar view
Collaboration and communication
Integration with other tools
Link: https://clickup.com/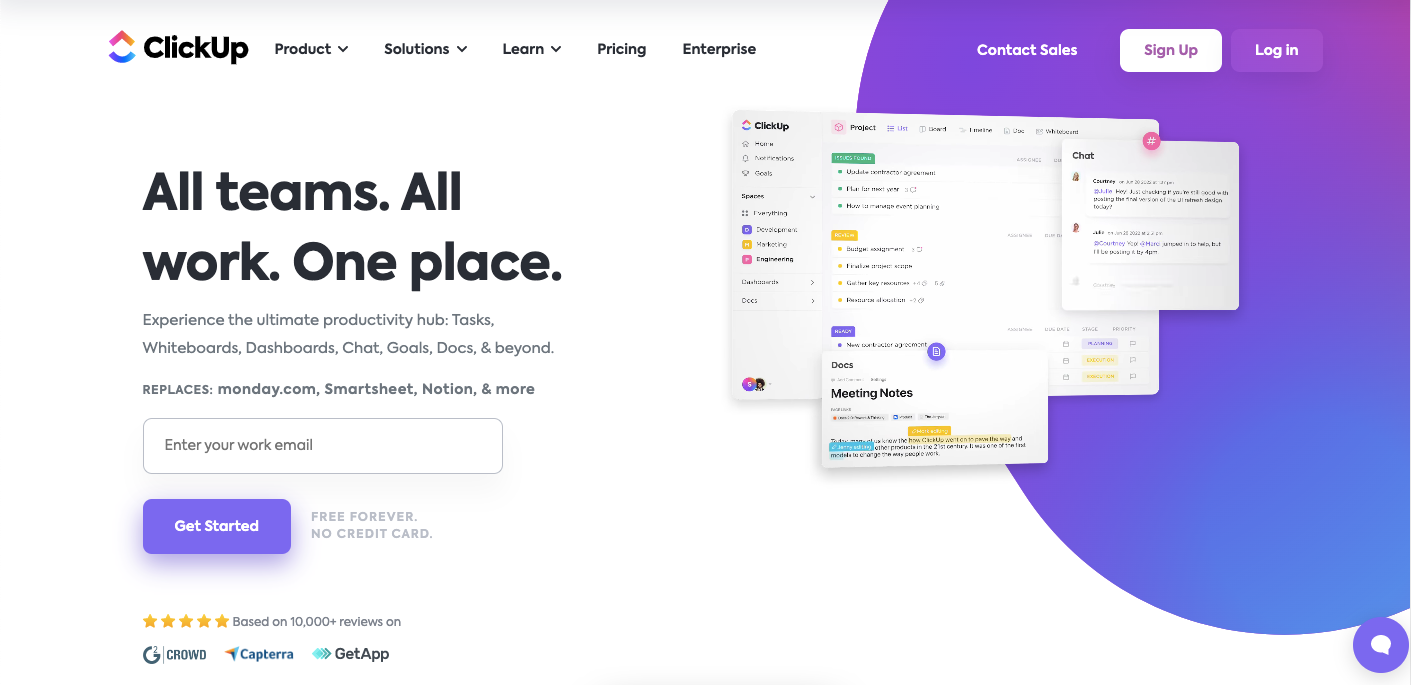 Notion
Notion is a flexible project management tool that combines the functions of a wiki, a task manager, and a note-taking software. It lets you make pages for various initiatives, jobs, and ideas and then personalize them with different components like tables, calendars, and embeds.
Version control, real-time communication, and tool integrations are all supported by Notion. Best of all, if you know how to code, you can code what you need through the platform.
There is a free version of Notion, and subscription plans begin at $4 per user each month.
If you have an education account, Notion might even be free!
Key features:
Customizable pages and templates
Task management and calendars
Collaboration and communication
Integration with other tools
Mobile app
Link: https://www.notion.so/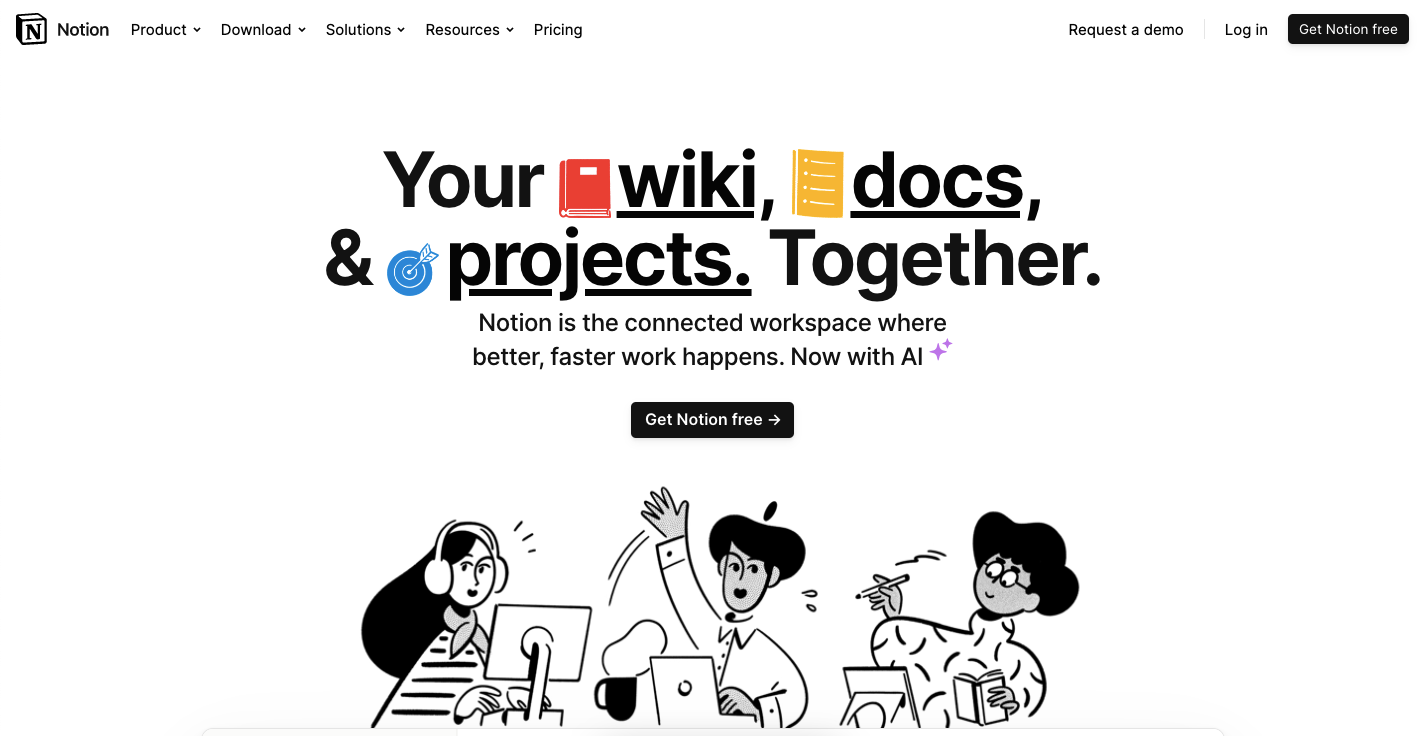 Google Docs
You can create, modify, and share documents in real-time with Google Docs, a straightforward but efficient project management tool. Writing collaboratively is especially advantageous when producing project proposals, reports, or blog articles.
To encourage collaboration and feedback, Google Docs provides a number of features like comments, suggestions, and version history. It is also very easy to download as a working file or a PDF.
Google Docs can be used for free, however premium subscriptions are also offered for more storage and functionality.
Key features:
Real-time collaboration and commenting
Change monitoring and version history
Standardized formats and templates
Including other Google technologies in the integration
Mobile app
Link: https://www.google.com/docs/about/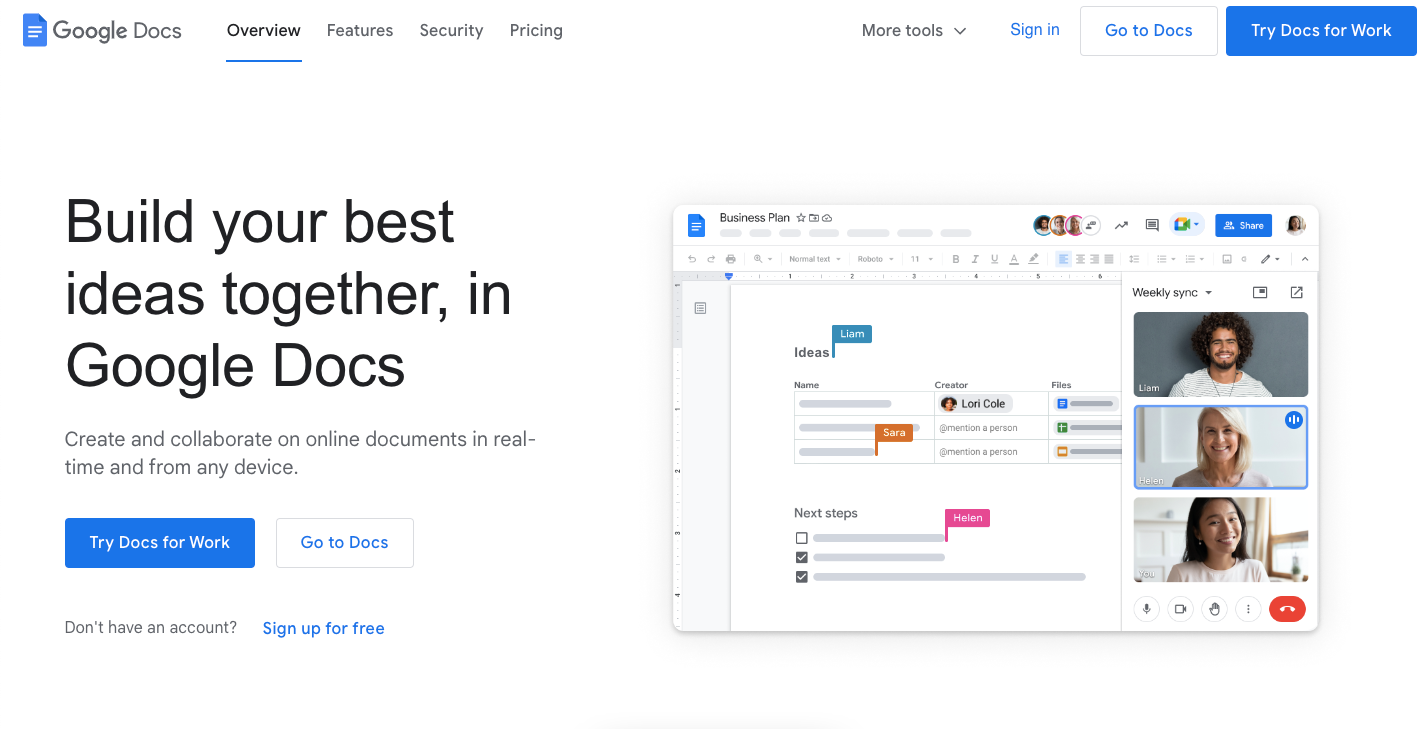 Basecamp
Basecamp is a project management solution that offers a single platform for handling tasks, communications, and files. To-do lists, schedules, chat boards, and document sharing are just a few of the capabilities it provides.
You can update and progress with your clients using Basecamp's client portal.
Basecamp charges a flat subscription of $99 per month for unlimited projects and users.
Key features:
Calendars and task lists
Message boards and communication
Document management and file sharing
Consumer portal
App for mobile
Link: https://basecamp.com/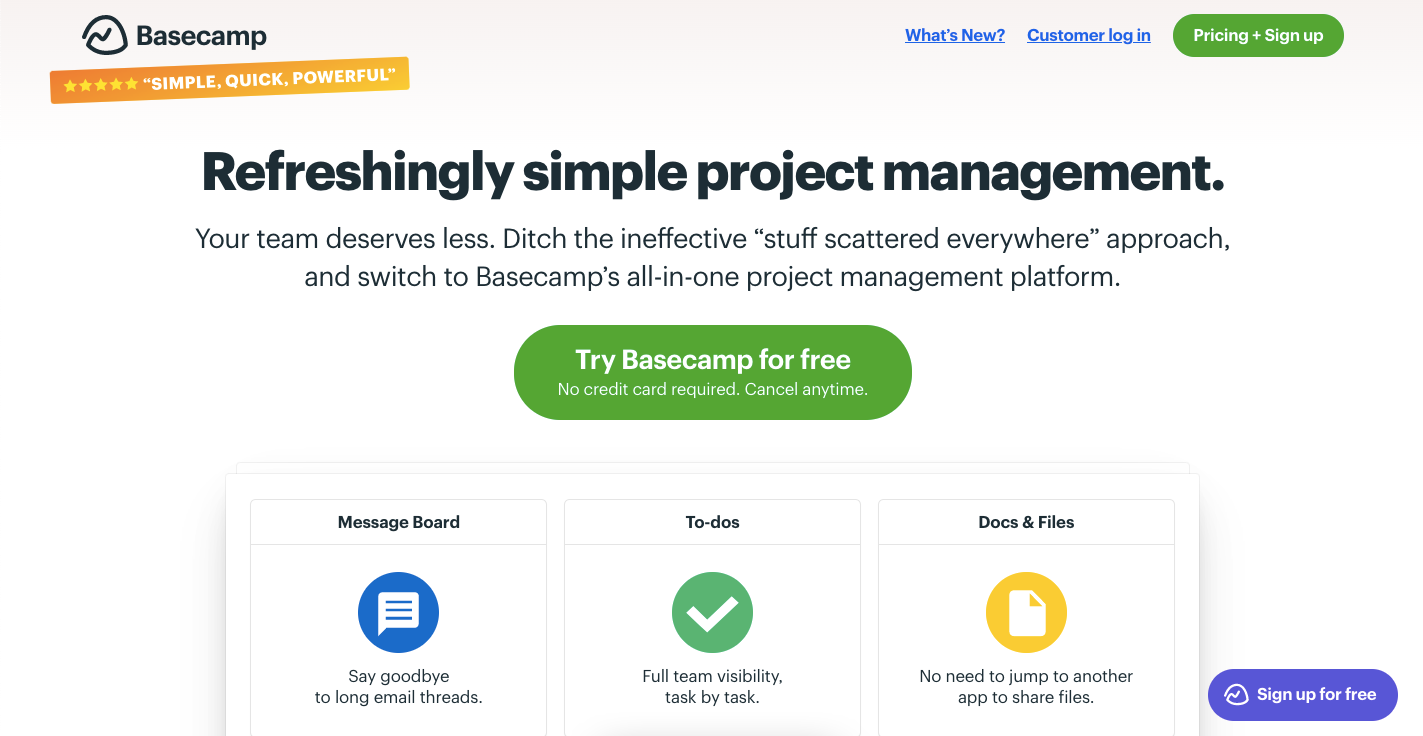 Airtable
You can arrange your tasks and data in resizable tables using the database-driven project management application Airtable. Calendars, task tracking, and tool connections are some of the services it offers.
In addition, Airtable offers templates for a variety of initiatives, including preparing events or marketing campaigns. Once you figure out the flow and how to connect various tasks, pieces of information, and projects together, it is a great tool for coordination.
You may even find others using it to contain bite-sized information that is easy to share!
Paid options for Airtable start at $12 per user per month and include a free plan.
Key features:
Table and field customization
Calendars and task tracking
Project templates for various types of work
Adaptation to other tools
App for mobile
Link: https://airtable.com/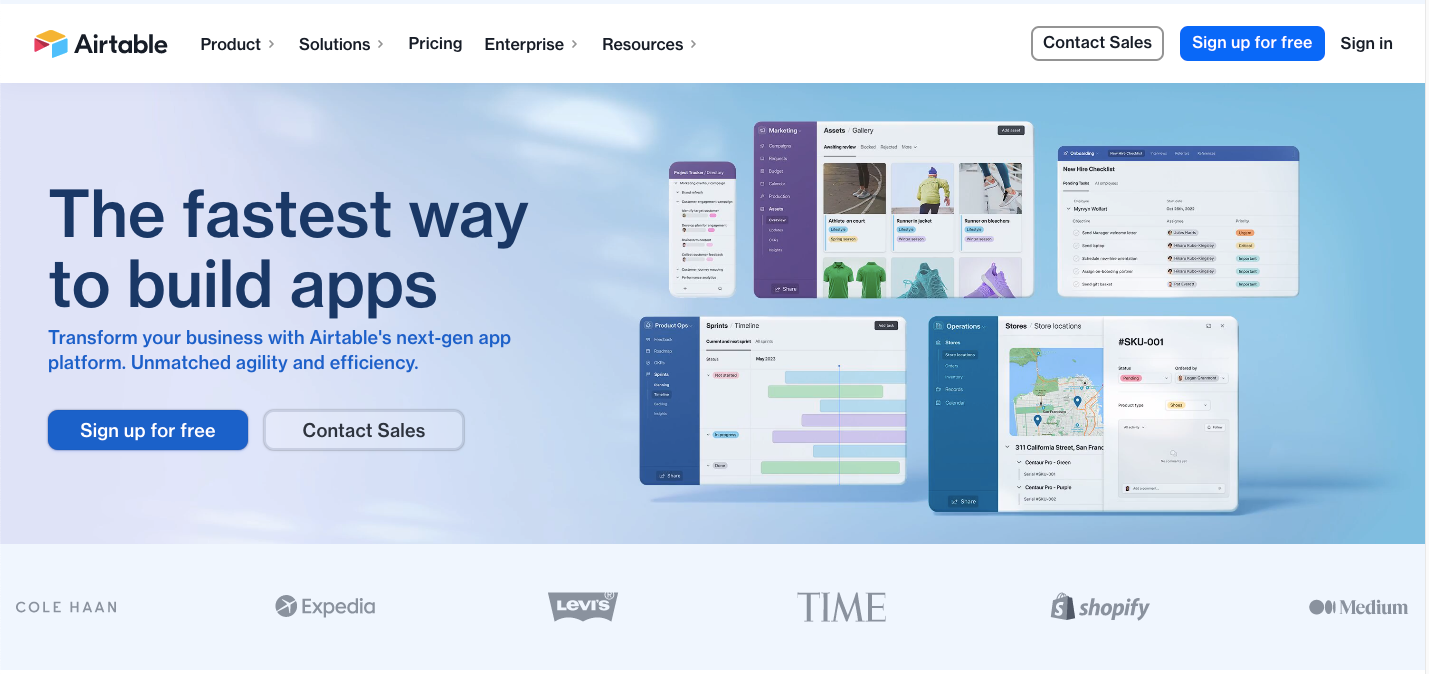 Wrike
Task management, communication, and reporting are all components of the project management platform Wrike. You may establish dependencies and due dates for tasks, create them, and follow their advancement in real time.
Wrike additionally offers customization, such as unique workflows and fields, as well as tool integrations. You may especially like the design and the way reports are generated to match your requests.
Wrike offers a free plan as well as subscription plans that start at $9.80 per user per month.
Key features:
Task management and progress tracking
Custom workflows and fields
Collaboration and communication
Reporting and analytics
Integration with other tools
Link: https://www.wrike.com/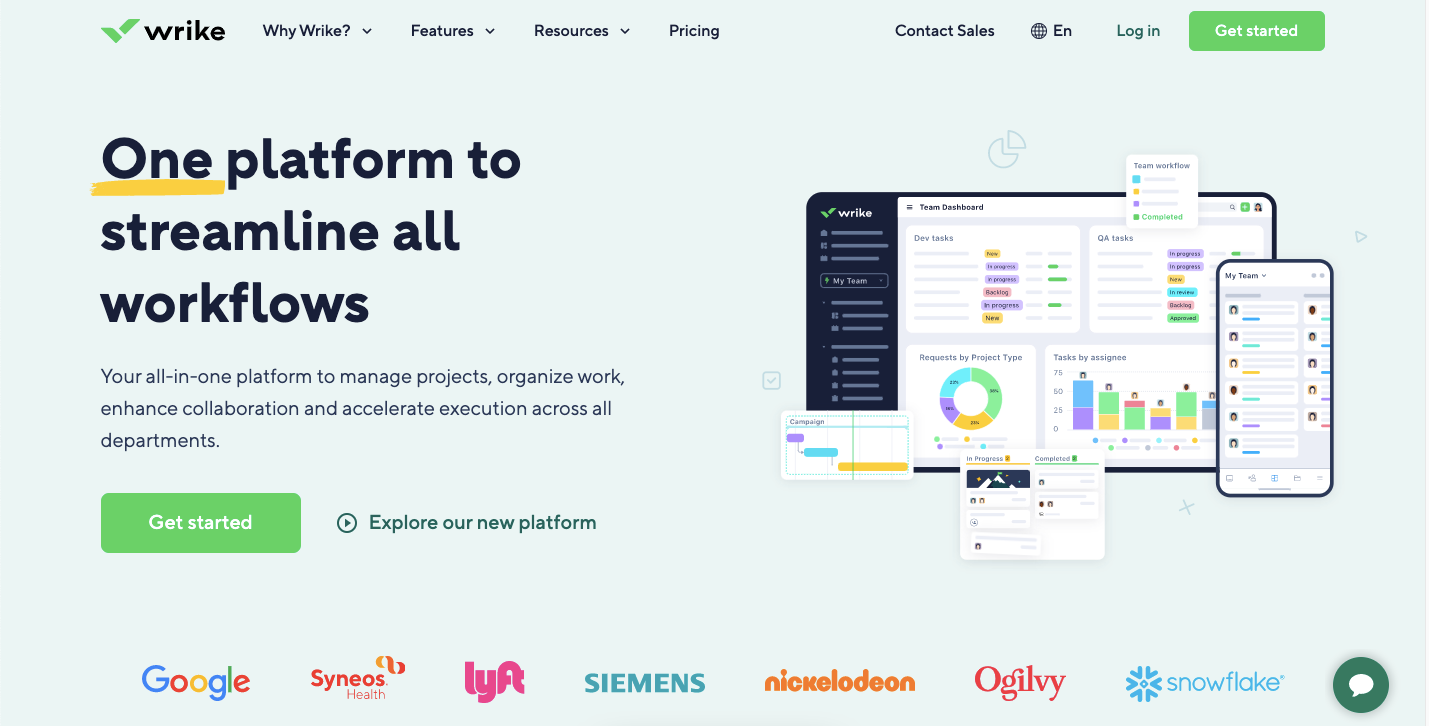 What project management tool should you choose?
These project management systems give independent contractors access to a variety of features and advantages, including real-time updates, collaboration, and centralized organization. Big words, but the tools themselves simplify everything.
You may streamline your workflow, increase productivity, and manage your projects more successfully by selecting the best solution for your needs. It might be good to outline your goals for the tool before searching, so that you know if it has everything you need.
For independent contractors who wish to maintain their organization, productivity, and efficiency, project management software is a crucial tool. Most of all, it helps independent contractors to remain independent.
Freelancers may optimize their workflow, work together with customers and team members, monitor progress, and efficiently manage their time by choosing the correct project management software. What is "correct"? Whatever works for you and your business!
How can you decide on what works for you as a freelancer?
There are several project management systems available that meet a variety of needs and tastes, from the well-known Trello to the adaptable Notion. It is crucial to pick a tool that complements your project management approach, objectives, and spending limit.
With its extraordinary flexibility, autonomy, and opportunities, freelancing is quickly changing the way people work. More and more professionals are turning to freelancing as a realistic career option as a result of the growth of digital platforms, remote work, and the gig economy.
While freelancing started out without a great reputation, freelancers are slowly gaining experience and supporting one another in the pursuit of unique work opportunities that use the abilities they want to grow or develop in. Now, companies are not the only entities that can avail of project management tools for growth.
How can the software set freelancers up for success?
Freelancing, however, also has particular difficulties, such as handling numerous jobs, interacting with clients, and maintaining motivation. By giving freelancers the resources they need to operate more efficiently rather than more laboriously, project management software can help them overcome these obstacles and thrive in their jobs.